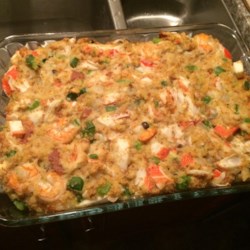 Savannah Seafood Stuffing
"This is a seafood stuffing that has been in my family for a while. We have never actually stuffed the bird with this to avoid the turkey having a 'fishy' taste. We tend to like our dressing very moist, but if you prefer a drier stuffing, only use half of the broth."
Ingredients
1/2 cup margarine
1/2 cup chopped green bell pepper
1/2 cup chopped onion
1/2 cup chopped celery
1 pound crabmeat, drained and flaked
1/2 pound medium shrimp - peeled and deveined
1/2 cup seasoned dry bread crumbs
1 (6 ounce) package corn bread stuffing mix
2 tablespoons white sugar, divided
1 (10.75 ounce) can condensed cream of mushroom soup
1 (14.5 ounce) can chicken broth
Directions
Melt the margarine in a large skillet over medium heat. Add the bell pepper, onion, celery crabmeat and shrimp; cook and stir for about 5 minutes. Set aside. In a large bowl, stir together the stuffing, bread crumbs and 1 tablespoon of sugar. Mix in the vegetables and seafood from the skillet. Stir in the cream of mushroom soup and as much of the chicken broth as you like. Spoon into a 9x13 inch baking dish.
Bake for 30 minutes in the preheated oven, or until lightly toasted on top.
ALL RIGHTS RESERVED © 2022 Allrecipes.com
Printed From Allrecipes.com 1/23/2022