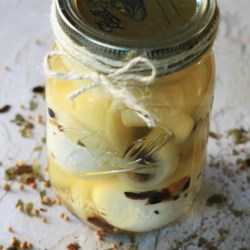 "This wonderful picked egg recipe is quick and easy. Perfect for a nice gift, or just to have on hand for entertaining. Plan ahead though, they need to be refrigerated for at least 3 days before they're ready for eating."
Ingredients
12 eggs
1 cup white vinegar
1/2 cup water
2 tablespoons coarse salt
2 tablespoons pickling spice
1 onion, sliced
5 black peppercorns
Directions
Place eggs in a large pot and cover with cold water. Bring water to a boil and immediately remove from heat. Cover and let eggs stand in hot water for 10 to 12 minutes. Remove from hot water, cool and peel. Place the eggs into a 1 quart wide mouth jar.
In a saucepan, combine the vinegar, water, salt, pickling spice, most of the onion (reserve a couple of slices), and black peppercorns. Bring to a rolling boil; pour over the eggs in the jar. Place a couple of slices of onion on top and seal the jars. Cool to room temperature, then refrigerate for 3 days before serving.
ALL RIGHTS RESERVED © 2021 Allrecipes.com
Printed From Allrecipes.com 7/28/2021