This ad will not print with your recipe
Chicken Valdostano
Delicious Italian skillet dish with prosciutto ham, fontina cheese (one of Italy's best cheeses) AND a white wine/mushroom sauce. Who could ask for more? Here's the recipe YOU asked for!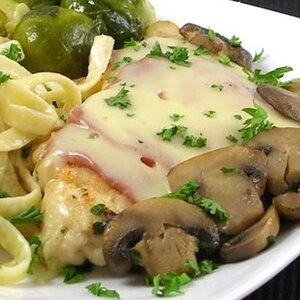 Ingredients
Original recipe yields 6 servings
Nutrition Facts
Per Serving:
396 calories; protein 34.5g 69% DV; carbohydrates 4.8g 2% DV; fat 23.7g 36% DV; cholesterol 127.5mg 43% DV; sodium 705.5mg 28% DV.
Full Nutrition
This ad will not print with your recipe
Ads will not print with your recipe
Advertisement