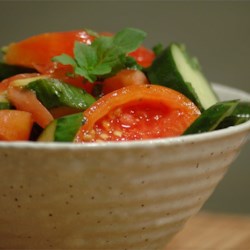 Tomato Cucumber Salad with Mint
"This is a refreshing summer salad. Perfect for a picnic or barbeque. I usually serve it with a spicy flank steak and potatoes."
Ingredients
1/3 cup red wine vinegar
1 tablespoon white sugar
1 teaspoon salt
2 large cucumbers, peeled, seeded, and cut into 1/2-inch slices
3 large tomatoes, seeded and chopped
2/3 cup chopped red onion
1/2 cup chopped fresh mint
2 tablespoons olive oil
salt and pepper to taste
Directions
In a large bowl, combine vinegar, sugar, and salt. Mix in cucumbers, and marinate 1 hour, stirring occasionally.
Gently toss tomatoes, onion, mint, and olive oil with the marinated cucumbers. Season with salt and pepper.
ALL RIGHTS RESERVED © 2019 Allrecipes.com
Printed From Allrecipes.com 11/21/2019