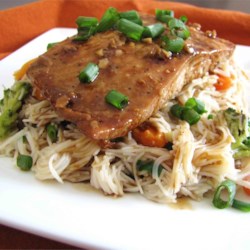 "Salmon is marinated in soy, brown sugar, juice, spices, and fresh ginger; then broiled to perfection! My family and friends rave about this fish with every bite. Even my husband, who wouldn't eat salmon, now asks when we're having it again. Please try, for you and your family's health!"
Ingredients
1 pound salmon fillets
1/3 cup brown sugar, divided
2 teaspoons lemon pepper, divided
1 teaspoon garlic powder, divided
1/3 cup low sodium soy sauce
1 tablespoon olive oil
1 (1 inch) piece fresh ginger root, minced
1/3 cup orange juice
Directions
Rub salmon with about 1 tablespoon brown sugar. Lightly sprinkle with lemon pepper and garlic powder; rub seasoning into fish.
Into a small saucepan set over medium heat, pour soy sauce and olive oil. Stir in ginger and remaining brown sugar, lemon pepper, and garlic powder. Bring to a gentle simmer, stirring constantly until sugar has dissolved. Remove from heat, stir in orange juice.
Place fish and marinade into a resealable plastic bag, seal, and refrigerate overnight, or for at least 3 hours.
Preheat broiler. Place fish in a foil-lined baking pan. Reserve marinade.
Broil fish skin-side up, 2 minutes. Remove from oven, pull skin off with tongs. Baste with marinade, return to oven, and broil 2 minutes more. Turn fish, and broil until fish flakes easily, about 4 minutes. Remove from oven, and let sit 5 minutes before serving.
ALL RIGHTS RESERVED © 2019 Allrecipes.com
Printed From Allrecipes.com 10/17/2019