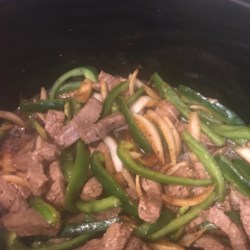 Slow Cooker Pepper Steak II
"An easy, delicious pepper steak recipe the whole family will love served over white or brown rice."
Ingredients
2 tablespoons olive oil
3 pounds beef sirloin, sliced into strips
1 tablespoon minced garlic
1 onion, chopped
1/2 cup soy sauce
1 teaspoon salt
1/2 teaspoon ground black pepper
2 teaspoons white sugar
3 green bell peppers, cut into strips
1 tablespoon cornstarch
1/4 cup cold water
Directions
Heat the oil in a large skillet over medium heat. Add the steak strips, and quickly brown on both sides, adding the garlic to the steak while it cooks. Transfer the steak and its juices to a slow cooker. Add the onion, soy sauce, salt, pepper and sugar. Cover, and cook on Low for 6 to 8 hours, until the meat is fork tender.
One hour before the end of the cooking time, add the green peppers. Stir together the cornstarch and cold water. Pour into the slow cooker during the last few minutes, and cook until the sauce has thickened.
ALL RIGHTS RESERVED © 2022 Allrecipes.com
Printed From Allrecipes.com 1/21/2022