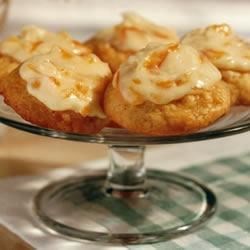 "These gourmet-style cookies are perfect for after dinner, parties or everyday occasions."
Ingredients
For the cookie dough:
2 cups sugar
1/2 cup CRISCO(R) Shortening
2 eggs
1 cup sour cream
1/2 cup SMUCKER'S(R) Sweet Orange Marmalade
4 cups all-purpose flour
2 teaspoons baking powder
1 teaspoon baking soda
1/2 teaspoon salt
For the frosting:
3 cups powdered sugar
1/2 cup butter or margarine (at room temperature)
1/4 cup SMUCKER'S(R) Sweet Orange Marmalade
orange juice (to thin frosting if necessary)
Directions
In a large mixing bowl, combine sugar, shortening and eggs; beat until well mixed. Add sour cream and marmalade; mix well. Add remaining ingredients and mix well. Chill dough in the refrigerator for 1/2 hour or until cool.
Meanwhile, preheat oven to 400 degrees and coat 2 baking sheets with cooking spray. Prepare frosting; in a medium mixing bowl, beat all frosting ingredients together, adding orange juice only as needed to make frosting spreadable. Set frosting aside.
Remove dough from refrigerator. Using a teaspoon, drop rounded spoonfuls of dough onto prepared baking sheets. Bake for 8 to 10 minutes or until lightly browned on edges. Remove from oven and cool on a wire rack.
Frost each cooled cookie.
ALL RIGHTS RESERVED © 2021 Allrecipes.com
Printed From Allrecipes.com 9/23/2021