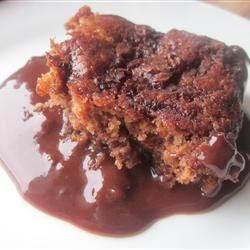 Recipe By:
Stephanie Watts
"This is a rich, chocolate cake that's not overly sweet. Serve with a scoop of ice cream or whipped cream over top and enjoy!"
Ingredients
1 cup all-purpose flour
3/4 cup white sugar
6 tablespoons unsweetened cocoa powder
2 teaspoons baking powder
1/4 teaspoon salt
1/2 cup milk
2 tablespoons vegetable oil
1 teaspoon vanilla extract
1 cup packed brown sugar
1 3/4 cups hot water
Directions
In a medium bowl, combine flour, white sugar, 2 tablespoons cocoa, baking powder, and salt. Stir in the milk, oil, and vanilla until smooth. Spread in ungreased 9 inch square baking pan.
Combine brown sugar and 4 tablespoons cocoa; sprinkle over batter in the pan. Pour hot water over all; do not stir.
Bake at 350 degrees F (175 degrees C) for 35 to 40 minutes. Serve warm.
ALL RIGHTS RESERVED © 2020 Allrecipes.com
Printed From Allrecipes.com 1/26/2020