This ad will not print with your recipe
Ray's Chicken
A marinade guaranteed to make your chicken breasts tender and juicy! This one has a little bit of everything in just the right proportions.
By RAYRIGGS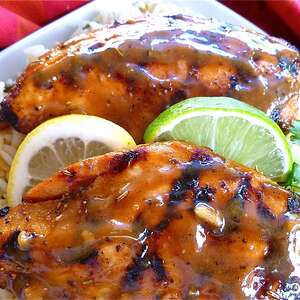 Ingredients
Original recipe yields 6 servings
Editor's Note:
The nutrition data for this recipe includes information for the full amount of the marinade ingredients. Depending on marinating time, ingredients, cooking method, etc., the actual amount of the marinade consumed will vary.
Nutrition Facts
Per Serving:
337 calories; protein 26.7g; carbohydrates 20.8g; fat 16.2g; cholesterol 67.1mg; sodium 1773.9mg.
Full Nutrition
This ad will not print with your recipe
Ads will not print with your recipe
Advertisement