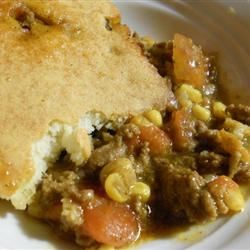 Recipe By:
Michelle Blanchard Ardillo
"This is a Mexican version of the Shepherd's Pie that is so popular in the UK. I decided to try this one night when I did not have any mashed potatoes. Its cheap, quick and easy...and my kids loved it! Serve with a tossed green salad for a great family meal!"
Ingredients
680 g ground beef
1 onion, finely chopped
garlic powder to taste
salt and pepper to taste
1 (14.5 ounce) can diced tomatoes
1 (1.25 ounce) package taco seasoning mix
180 ml hot water
1 (11 ounce) can whole kernel corn, drained
1 (8.5 ounce) package corn muffin mix
140 g shredded Cheddar cheese (optional)
1 (2.25 ounce) can sliced black olives (optional)
Directions
Preheat oven to 400 degrees F (200 degrees C). Spray a 9x13 inch baking dish with cooking spray.
Place the beef and onion in a skillet over medium heat. Cook until beef is evenly brown and onion is tender. Drain grease. Season with garlic powder, salt, and pepper. Mix in the tomatoes, and cook 5 minutes. Stir in the taco seasoning and water. Bring to a boil, reduce heat to low, and continue cooking 5 minutes, until thickened. Transfer to the prepared baking dish, and top evenly with corn.
Prepare the corn muffin mix according to package directions. Spread evenly over the corn layer in the baking dish.
Bake 20 minutes in the preheated oven, or until puffed and golden. Garnish with olives and cheese.
ALL RIGHTS RESERVED © 2018 Allrecipes.com
Printed From Allrecipes.com 6/22/2018