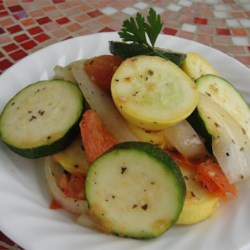 "This is a recipe that will delight people who don't even usually like squash. It's especially nice with fresh veggies direct from your farmer's market. A great summer side dish!"
Ingredients
2 tablespoons vegetable oil
1 small onion, sliced
2 medium tomatoes, coarsely chopped
1 teaspoon salt
1/4 teaspoon pepper
2 small zucchini, cut into 1/2 inch slices
2 small yellow summer squash, cut into 1/2-inch slices
1 bay leaf
1/2 teaspoon dried basil
Directions
Heat the oil in a large skillet over medium heat. Cook and stir the onion about 5 minutes, until tender. Mix in the tomatoes, and season with salt and pepper. Continue to cook and stir about 5 minutes. Mix in the zucchini, yellow squash, bay leaf, and basil. Cover, reduce heat to low, and simmer 20 minutes, stirring occasionally. Remove bay leaf before serving.
ALL RIGHTS RESERVED © 2018 Allrecipes.com
Printed From Allrecipes.com 6/21/2018