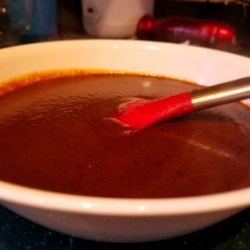 Ten Minute Enchilada Sauce
"A super speedy enchilada sauce with a truly authentic taste."
Ingredients
60 ml vegetable oil
15 g self-rising flour
30 g New Mexico or California chili powder
1 (8 ounce) can tomato sauce
355 ml water
0.5 g ground cumin
0.7 g garlic powder
1 ml onion salt
salt to taste
Directions
Heat oil in a skillet over medium-high heat. Stir in flour and chili powder, reduce heat to medium, and cook until lightly brown, stirring constantly to prevent burning flour.
Gradually stir in tomato sauce, water, cumin, garlic powder, and onion salt into the flour and chili powder until smooth, and continue cooking over medium heat approximately 10 minutes, or until thickened slightly. Season to taste with salt.
ALL RIGHTS RESERVED © 2018 Allrecipes.com
Printed From Allrecipes.com 6/24/2018