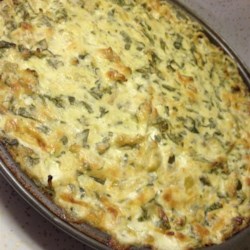 Veronica's Hot Spinach, Artichoke and Chile Dip
Recipe By:
WRIGHTWOOD GIRL
"This recipe is always a hit at parties. I combined my two favorite recipes--artichoke chili dip and hot spinach dip--into this one recipe."
Ingredients
2 (8 ounce) packages cream cheese, softened
120 ml mayonnaise
1 (4.5 ounce) can chopped green chiles, drained
80 g freshly grated Parmesan cheese
1 (12 ounce) jar marinated artichoke hearts, drained and chopped
35 g canned chopped jalapeno peppers, drained
1 (10 ounce) box frozen chopped spinach, thawed and drained
Directions
Preheat oven to 350 degrees F (175 degrees C).
Mix together the cream cheese and mayonnaise in a bowl until smooth. Stir in the green chiles, Parmesan cheese, artichokes, peppers, and spinach. Spoon the mixture into a baking dish.
Bake in preheated oven until slightly browned, about 30 minutes.
ALL RIGHTS RESERVED © 2018 Allrecipes.com
Printed From Allrecipes.com 6/23/2018