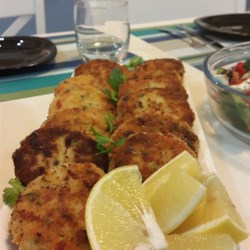 "These crab cakes are just the best. I make these often at home, and I make a smaller appetizer size for parties. They are always a hit. They are easy and delicious. I won't eat crab cakes out anymore! Serve with fresh squeezed lemon and tartar sauce!"
Ingredients
1/3 cup dry bread crumbs
1/4 green bell pepper, seeded and diced
1/4 red bell pepper, seeded and diced
2 green onions, thinly sliced
4 sprigs fresh parsley, chopped
1/2 teaspoon hot pepper sauce
1 egg white
2 tablespoons mayonnaise
1 tablespoon fresh lemon juice
1/2 teaspoon Worcestershire sauce
2 teaspoons Dijon mustard
1/4 teaspoon Old Bay TM seasoning
1/4 teaspoon dry mustard
1/4 teaspoon onion powder
3 (6 ounce) cans crabmeat, drained and flaked
1/2 cup dry bread crumbs
1 cup canola oil for frying
Directions
In a bowl, toss together the 1/3 cup bread crumbs, green bell pepper, red bell pepper, green onions, and parsley. Mix in the egg white, mayonnaise, lemon juice, Worcestershire sauce, and Dijon mustard. Season with Old Bay seasoning, dry mustard, and onion powder. Fold crabmeat into the mixture. Form into 6 large cakes. Coat in the remaining 1/2 cup bread crumbs.
Heat the oil in a large, heavy skillet. Fry the cakes 5 minutes on each side, or until evenly brown. Drain on paper towels.
ALL RIGHTS RESERVED © 2019 Allrecipes.com
Printed From Allrecipes.com 5/22/2019