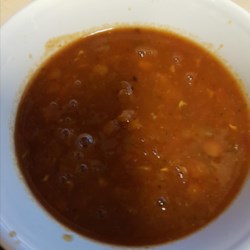 Spicy Tomato and Lentil Soup
"A quick, easy and tasty recipe for thick lentil soup. This works best using a hand blender or a food mixer, but you can puree it in the blender too. Serve with thickly sliced crusty bread for a filling and delicious meal."
Ingredients
1 onion, finely chopped
1 tablespoon olive oil
1 chile pepper, chopped
1 cup red lentils
1 (14.5 ounce) can peeled and diced tomatoes
1 cup water
salt and pepper to taste
1/2 teaspoon ground cumin
1 teaspoon dried basil
1/4 cup sour cream, for topping (optional)
2 sprigs fresh basil leaves for garnish (optional)
Directions
Heat the olive oil in a large saucepan or Dutch oven. Lightly brown the onions in the oil. Add the tomatoes, chili pepper, lentils, cumin and basil to the pan along with the water. Bring to a boil, then reduce heat to medium-low and simmer for about 20 minutes, or until the lentils are tender.
When the lentils have softened, use a stick blender to puree the soup. Season to taste with salt and pepper. For a special touch, put sour cream in a squirt bottle, and squeeze a spiral onto the top of each bowl of soup, and garnish with a sprig of fresh basil.
ALL RIGHTS RESERVED © 2019 Allrecipes.com
Printed From Allrecipes.com 11/12/2019