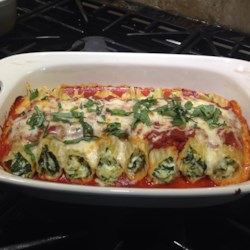 "My husband says this dish is restaurant quality. It can be made ahead and kept in the refrigerator overnight. Very filling and great served with a salad and garlic bread."
Ingredients
1 (15 ounce) container ricotta cheese
1 (10 ounce) package frozen chopped spinach, thawed and squeezed dry
85 g minced onion
1 egg
3 g minced fresh parsley
1 g pepper
0.7 g garlic powder
170 g shredded mozzarella cheese, divided
40 g grated Parmesan cheese, divided
2 (26 ounce) jars spaghetti sauce
355 ml water
1 (8 ounce) package manicotti shells
Directions
Preheat oven to 350 degrees F (175 degrees C).
In a large bowl, combine ricotta, spinach, onion and egg. Season with parsley, pepper and garlic powder. Mix in 1 cup mozzarella and 1/4 cup Parmesan. In a separate bowl, stir together spaghetti sauce and water.
Spread 1 cup sauce in the bottom of a 9x13 inch baking dish. Stuff uncooked manicotti shells with ricotta mixture, and arrange in a single layer in the dish. Cover with remaining sauce. Sprinkle with remaining mozzarella and Parmesan.
Bake in preheated oven for 45 to 55 minutes, or until noodles are soft.
ALL RIGHTS RESERVED © 2018 Allrecipes.com
Printed From Allrecipes.com 6/24/2018