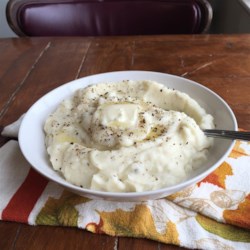 Holiday ONLY Mashed Potatoes
"These mashed potatoes are too fattening to have on a regular basis. I only make these on holidays, and everyone wonders what's in them that's makes them so rich..."
Ingredients
5 pounds red potatoes, peeled and quartered
1 cup heavy cream
1/2 cup butter
salt and pepper to taste
Directions
Place potatoes in a large pot with enough water to cover. Bring to a boil, and cook until fork tender, about 20 minutes. Drain, add butter, and mash using a potato masher, ricer or mixer. Gradually beat in the heavy cream. Serve hot!
ALL RIGHTS RESERVED © 2021 Allrecipes.com
Printed From Allrecipes.com 2/24/2021