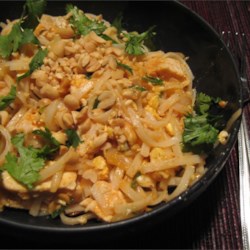 "This is a Pad Thai recipe I got from a restaurant. The sauce is made with ketchup, fish sauce, sugar, lemon juice and vinegar, and it's sprinkled liberally with bean sprouts and chopped peanuts."
Ingredients
1 (8 ounce) package rice noodles
1 1/2 teaspoons vegetable oil
1 onion, diced
1 teaspoon minced garlic
12 medium fresh shrimp, peeled and deveined
1 tablespoon ketchup
1 tablespoon fish sauce
1 tablespoon white sugar
1 tablespoon lemon juice
1 tablespoon white wine vinegar
2 eggs, lightly beaten
1/4 pound bean sprouts
1/2 cup unsalted dry-roasted peanuts, chopped
1/4 pound bean sprouts
1 lemon, sliced
1/2 cup chopped peanuts
1/4 cup coarsely chopped cilantro
Directions
In a medium bowl, soak the noodles in cold water for 15 min; drain. Cover noodles with hot water, and soak for 15 minutes; drain. Rinse with cold water, drain, and set aside.
Heat oil in a wok or large heavy skillet over medium heat. Saute onion and garlic until onion is soft and translucent, about 5 minutes. Add shrimp, and cook until pink. Stir in ketchup, fish sauce, sugar, lemon juice and vinegar. Pour in the beaten egg, and cook without stirring until egg is partially set. Add drained noodles, 1/4 pound bean sprouts, and 1/2 cup peanuts. Mix while cooking until noodles are tender.
ALL RIGHTS RESERVED © 2019 Allrecipes.com
Printed From Allrecipes.com 10/15/2019