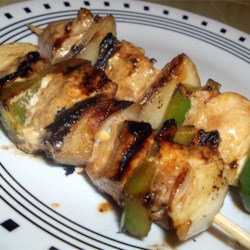 "This great summer recipe was given to me by a friend years ago. You can put any vegetables you want on the skewers. Don't be worried when you see the light corn syrup in the ingredients, it comes together great! It's a great change. You can even skip the vegetables and just skewer the chicken. Enjoy!"
Ingredients
1 cup vegetable oil
1/2 cup soy sauce
1/2 cup light corn syrup
1/4 cup lemon juice
2 tablespoons sesame seeds
1/2 teaspoon garlic powder
garlic salt to taste
4 skinless, boneless chicken breast halves - cut into 1 1/2 inch pieces
1 (8 ounce) package fresh chopped mushrooms
2 onions, quartered
1 green bell pepper, cut into large chunks
Directions
In a medium bowl, blend vegetable oil, soy sauce, light corn syrup, lemon juice, sesame seeds, garlic powder, and garlic salt. Place chicken in the mixture. Cover, and marinate in the refrigerator at least 2 hours.
Preheat an outdoor grill for medium heat, and lightly oil grate. Thread chicken onto skewers alternately with mushrooms, onions, and green bell pepper. Pour marinade into a saucepan, and bring to a boil. Cook for 5 to 10 minutes.
Place skewers on the prepared grill. Cook 15 to 20 minutes, turning frequently, until chicken is no longer pink and juices run clear. Baste with the boiled marinade frequently during the last 10 minutes.
ALL RIGHTS RESERVED © 2019 Allrecipes.com
Printed From Allrecipes.com 7/20/2019