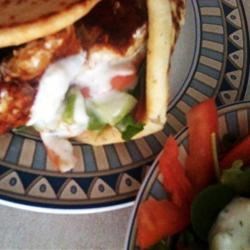 Recipe By:
Violet Grillo-Derderian
"Cool and refreshing, this salad is a perfect accompaniment to lamb or rice - or both! You may use mint in place of dill if you wish, be creative."
Ingredients
1 (32 ounce) container plain yogurt
2 tablespoons dried dill weed
2 cloves garlic, minced
salt and black pepper to taste
1 cucumber - peeled, seeded, and chopped
Directions
In a medium bowl, blend yogurt, dill weed, garlic, salt, and pepper. Toss in the cucumber. Cover, and refrigerate 8 hours, or overnight.
ALL RIGHTS RESERVED © 2019 Allrecipes.com
Printed From Allrecipes.com 8/23/2019