This ad will not print with your recipe
Instant Pot® Honey-Garlic Shrimp from Frozen
Forget to thaw your shrimp? No problem. Let your multi-functional pressure cooker thaw and cook it for you. The sauce is sweet, sticky, salty, and just the right amount of heat. Serve over rice if desired.
By Soup Loving Nicole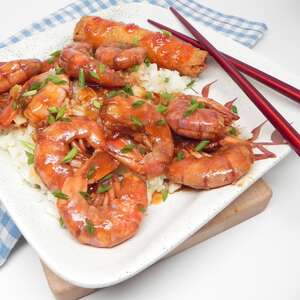 Ingredients
Original recipe yields 4 servings
Cook's Note:
Make sure to use frozen shrimp to avoid overcooking. If desired, peel cooked shrimp prior to adding them to sauce for easier eating.
Nutrition Facts
Per Serving:
193 calories; protein 20.2g; carbohydrates 21.2g; fat 3.3g; cholesterol 172.6mg; sodium 1516.7mg.
Full Nutrition
This ad will not print with your recipe
Ads will not print with your recipe
Advertisement