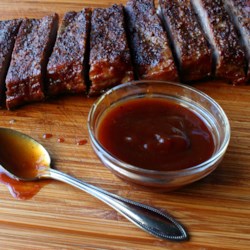 All-American Barbecue Sauce
"I'm very excited to show you my take on America's most popular style of barbecue sauce--which of course originated in and around Kansas City. After you make a batch of this and taste just how incredible it is, I don't think you'll ever buy that stuff from the store again. Sauce may be used right away, but for best results, wrap and refrigerate for a day or two before using to allow the flavors to develop."
Ingredients
2 cups ketchup
1/3 cup packed brown sugar
1/3 cup dark molasses
1/2 cup white distilled vinegar
1/2 teaspoon smoked paprika
1/2 teaspoon chili powder
1/2 teaspoon cayenne powder, or to taste
1/2 teaspoon freshly ground black pepper
1/4 teaspoon ground allspice
1/4 teaspoon ground coriander
1/4 teaspoon ground cumin
Directions
Combine ketchup, brown sugar, molasses, vinegar, paprika, chili powder, cayenne, black pepper, allspice, coriander, and cumin in a mixing bowl and whisk thoroughly.
ALL RIGHTS RESERVED © 2021 Allrecipes.com
Printed From Allrecipes.com 3/4/2021