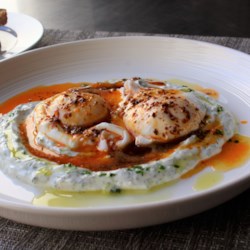 "At my age I feel like I've seen and done it all, so you can only imagine my shock at finding a new way to do eggs. I would never have thought to pair yogurt with poached eggs and a spicy red pepper butter, but it might be my new favorite breakfast now. Fried eggs also work in this, any way you like 'em. Serve with toasted crusty bread for dipping."
Ingredients
For the Yogurt Spread:
1 cup Greek yogurt, at room temperature
1 clove garlic
1/4 teaspoon salt, or to taste
1/2 teaspoon freshly ground black pepper
1 pinch cayenne pepper
2 1/2 tablespoons finely chopped fresh dill, or to taste
For the Aleppo Butter:
1/2 stick unsalted butter
1/4 teaspoon ground cumin
1/2 teaspoon smoked paprika
1 tablespoon Aleppo chili flakes
For the Optional Parsley and Jalapeno Oil:
1 tablespoon chopped fresh parsley
1 tablespoon diced jalapeno pepper
1 pinch salt (optional)
2 tablespoons olive oil (optional)
For the Rest:
1 tablespoon white vinegar, or as needed
4 large eggs
1 pinch sea salt
Directions
Spoon yogurt into a medium bowl. Grate in garlic and mix to combine. Season with salt, pepper, and cayenne. Add dill and mix thoroughly. Set aside at room temperature.
Melt butter in a saucepan over medium heat; heat until bubbles begin to burst. Add cumin, paprika, and chili flakes. Stir until color is uniform, then turn off heat and let spices infuse.
Grind parsley and jalapeno together in a mortar. Season with salt, drizzle in olive oil, and stir to combine.
Fill a large saucepan with 2 to 3 inches of water and bring to a boil. Reduce heat to medium-low, pour in vinegar, and keep the water at a gentle simmer. Crack an egg into a small bowl then gently slip egg into the simmering water, holding the bowl just above the surface of water. Repeat with the remaining eggs. Cook eggs until the whites are firm and the yolks have thickened but are not hard, 2 1/2 to 3 minutes. Remove the eggs from the water with a slotted spoon, dab on a kitchen towel to remove excess water, and place onto a warm plate.
Dollop yogurt mixture onto serving plates. Use the back of a spoon to spread yogurt out into a bed for the eggs, carving ridges into the top to catch the oil. Drizzle on some jalapeno oil. Top with eggs and a spoonful or two of the Aleppo butter. Sprinkle sea salt on top.
ALL RIGHTS RESERVED © 2021 Allrecipes.com
Printed From Allrecipes.com 12/4/2021