This ad will not print with your recipe
Fast Eddie's Deadly Hominy Casserole
Beautiful, easy, and delicious. Since my friend Fast Eddie gave me this recipe many years ago, I've been asked to bring it to every family Thanksgiving meal. It's become a new tradition.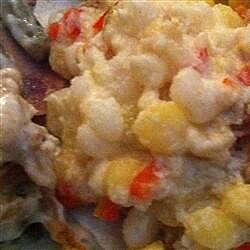 Ingredients
Original recipe yields 6 servings
Cook's Note:
Substitute croutons for bread crumbs if desired.
Nutrition Facts
Per Serving:
445 calories; protein 15.5g 31% DV; carbohydrates 51g 17% DV; fat 19.8g 31% DV; cholesterol 41.8mg 14% DV; sodium 1156.8mg 46% DV.
Full Nutrition
This ad will not print with your recipe
Ads will not print with your recipe
Advertisement