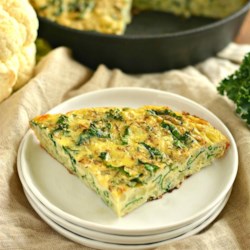 Cauliflower Kale Frittata
"A satisfying cauliflower kale frittata with few ingredients that takes little time to make! A savory breakfast that's gluten-free and low calorie."
Ingredients
1 cup crumbled cauliflower
1/4 cup water
6 egg whites
2 large eggs
1 tablespoon milk
salt and ground black pepper to taste
1 cup kale, ribs removed, shredded
1/2 teaspoon dried thyme
1/4 teaspoon garlic powder
cooking spray
1 1/2 teaspoons grated Parmesan cheese
Directions
Heat a large cast iron skillet over medium-high heat. Add cauliflower to the hot skillet with water; cover and cook until cauliflower softens, about 8 minutes.
While cauliflower is cooking, mix egg whites, whole eggs, milk, salt, and pepper together using an electric hand mixer in a bowl until fluffy, about 3 minutes.
Stir kale, thyme, and garlic powder into the skillet mixture to combine. Cook until kale has wilted, 3 to 4 minutes; transfer vegetable mixture to the egg mixture and stir to combine.
Spray the hot skillet with nonstick cooking spray. Pour in egg-vegetable mixture and sprinkle with Parmesan cheese. Cover and cook until edges are set, about 5 minutes.
Meanwhile, set an oven rack about 6 inches from the heat source and preheat the oven's broiler to high.
Uncover the skillet and broil in the preheated oven until the top of the frittata is set and cooked, about 8 minutes.
ALL RIGHTS RESERVED © 2019 Allrecipes.com
Printed From Allrecipes.com 10/18/2019