This ad will not print with your recipe
Earl Grey Cream Pie
Aunt Kitty used to make this Earl Grey cream pie for her famous tea parties. Sometimes she would finish it with orange zest on top of the whipped cream just to gild the lily.
By H.Carl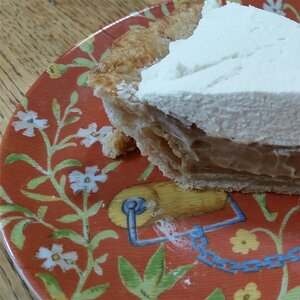 Ingredients
Original recipe yields 8 servings
Nutrition Facts
Per Serving:
554 calories; protein 7.1g; carbohydrates 46.9g; fat 38.1g; cholesterol 202.7mg; sodium 290mg.
Full Nutrition
This ad will not print with your recipe
Ads will not print with your recipe
Advertisement