This ad will not print with your recipe
Baked Sweet Potato Skins
This is a slight variation on the classic game day loaded sweet potato skins. This is one of my original recipes, and a favorite for big games in the fall and winter.
By fouab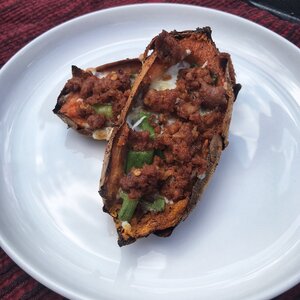 Ingredients
Original recipe yields 6 servings
Cook's Note:
You can substitute farmer's cheese for queso Chihuahua, if desired.
Nutrition Facts
Per Serving:
292 calories; protein 13.1g; carbohydrates 17g; fat 19.2g; cholesterol 55mg; sodium 492.2mg.
Full Nutrition
This ad will not print with your recipe
Ads will not print with your recipe
Advertisement