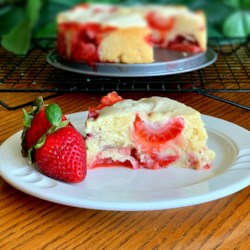 "Reminiscent of a ladyfinger cake, this is a deliciously light cake that is not all that sweet and is best made with fresh, ripe strawberries. Decorate with additional strawberries."
Ingredients
cooking spray
1 1/4 cups white sugar, divided
1 stick unsalted butter, room temperature
2 large eggs
1 teaspoon vanilla extract
1 1/3 cups all-purpose flour
1 1/4 teaspoons baking powder
1/4 teaspoon salt
1/2 cup sour cream
1 (16 ounce) package fresh strawberries, stemmed and halved
Directions
Preheat the oven to 350 degrees F (175 degrees C). Spray an 8-inch round cake pan with cooking spray.
Whip together 1 cup sugar and butter using an electric mixer in a mixing bowl until pale and fluffy, 5 to 7 minutes. Add eggs one at a time, beating well after each addition. Beat in vanilla extract.
Whisk together flour, baking powder, and salt in a medium bowl. Add flour mixture to butter mixture alternately with sour cream, beginning and ending with flour mixture, and beating just until combined after each addition. Fold in strawberries.
Spread batter into the prepared cake pan. Sprinkle remaining 1/4 cup sugar evenly over the top.
Bake in the preheated oven until a toothpick inserted into the center comes out clean, 40 to 50 minutes. Let cool completely on a wire rack.
ALL RIGHTS RESERVED © 2019 Allrecipes.com
Printed From Allrecipes.com 6/17/2019