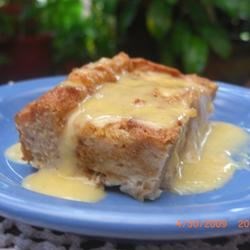 "This creme anglaise is delicious especially when you use the vanilla bean to flavor. You can also use flavored liqueur to change the taste."
Ingredients
235 ml half-and-half cream
100 g white sugar, divided
1 vanilla bean, halved lengthwise
4 egg yolks
30 g unsalted butter
Directions
In a saucepan over medium heat, combine half-and-half, 1/4 cup sugar and vanilla bean.
In a bowl, whisk together egg yolks and remaining 1/4 cup sugar until smooth.
When cream mixture comes just to a boil, remove from heat and remove vanilla bean. Whisk a small amount of hot cream into the egg yolk mixture, then pour egg yolk mixture into remaining hot cream and whisk until smooth. Return to medium heat and cook, stirring, until mixture coats the back of a metal spoon. Remove from heat and stir in butter. Serve warm or cold.
ALL RIGHTS RESERVED © 2018 Allrecipes.com
Printed From Allrecipes.com 10/16/2018