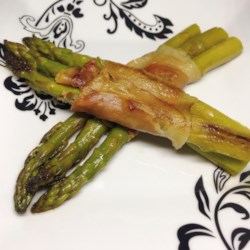 Instant Pot(R) Prosciutto-Wrapped Asparagus
Recipe By:
thedailygourmet
"This quick, impressive side dish is done in a few minutes with the use of an Instant Pot(R). I do not recommend bacon, as it is generally sliced much thicker than prosciutto."
Ingredients
1 pound asparagus, ends trimmed
4 ounces prosciutto
1 tablespoon butter
1/4 cup low-sodium chicken broth
Directions
Bundle together 3 asparagus spears, or 5 spears if they are slender. Wrap 1 prosciutto slice around each asparagus bundle, catching the beginning edge of the prosciutto around one spear of asparagus.
Turn on a multi-functional pressure cooker (such as Instant Pot(R)) and select Saute function. Melt butter. Place prosciutto-wrapped asparagus bundles seam-side down into the Instant Pot(R) and saute until prosciutto is lightly browned, about 2 minutes. Turn bundles over and cook until prosciutto is browned, 2 more minutes. Turn bundles over the rest, seam-side down. Pour chicken broth into pot. Select steam pressure according to manufacturer's instructions; set timer for 3 minutes. Allow 10 minutes for pressure to build.
Release pressure carefully using the quick-release method according to manufacturer's instructions, about 5 minutes. Unlock and remove the lid. Serve immediately.
ALL RIGHTS RESERVED © 2019 Allrecipes.com
Printed From Allrecipes.com 5/25/2019