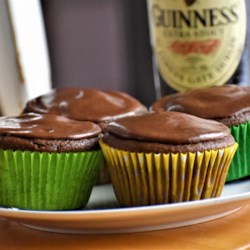 Guinness(R) Cupcakes with Guinness(R) Frosting
"A friend of mine suggested that I try Guinness(R) cupcakes as my next baking adventure, and they came out amazing."
Ingredients
Cupcakes:
1 (12 fluid ounce) can or bottle Irish stout beer (such as Guinness(R))
1/2 cup milk
1/2 cup vegetable oil
1 tablespoon vanilla extract
3 large eggs
3/4 cup sour cream
2 1/2 cups all-purpose flour
2 cups white sugar
3/4 cup unsweetened cocoa powder
1 1/2 teaspoons baking soda
Frosting:
1/4 cup unsweetened cocoa powder, or more to taste
1/4 cup Irish stout beer (such as Guinness(R))
1/2 cup butter, softened
1/2 cup cream cheese, softened
2 1/2 cups sifted confectioners' sugar, or more as needed
Directions
Preheat the oven to 350 degrees F (175 degrees C). Grease two 12-cup muffin tins or line cups with paper liners.
Whisk stout beer, milk, vegetable oil, and vanilla extract together in a bowl until evenly blended. Beat in eggs 1 at a time, beating well after each addition. Mix in sour cream. Whisk together flour, sugar, cocoa powder, and baking soda in a separate bowl. Gradually mix the flour mixture ingredients into the beer mixture.
Spoon cupcake batter into the prepared muffin cups, filling each 3/4 full.
Bake in the preheated oven until cupcakes are risen and set in the middle but still soft and tender, about 25 minutes. Cool in the tins, then transfer to a wire rack to cool completely, about 1 hour.
Whisk cocoa powder and stout beer together in a bowl. Beat in butter and cream cheese using an electric mixer until well combined. Gradually beat in confectioners' sugar, 1 cup at a time, until frosting has desired sweetness. Spread or pipe frosting onto cooked cupcakes.
ALL RIGHTS RESERVED © 2022 Allrecipes.com
Printed From Allrecipes.com 1/23/2022