This ad will not print with your recipe
CAMPBELL'S® Easy Chicken & Black Bean Chili
Think you can't make chili in 30 minutes? Think again! A can of CAMPBELL'S® Roasted Red Pepper & Tomato condensed soup gives this quick chili a long-cooked flavor in just minutes, without having to add a zillion ingredients.
By Campbell's Canada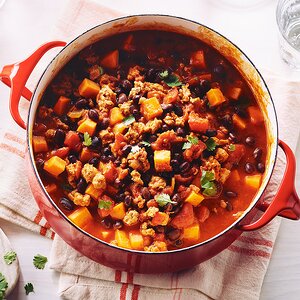 Ingredients
Original recipe yields 6 servings
Recipe Tips:
To freeze this chili, refrigerate it until cold, then freeze in an airtight container, leaving 1 inch (2.5 cm) headspace, for up to 1 month.
Tips
Nutrition Facts (per serving):
Calories 300
Fat 9 g
Sodium 730 mg
Carbohydrate 36 g
Dietary Fibre 9 g
Protein 17 g
Calcium 10 %DV
This ad will not print with your recipe
Ads will not print with your recipe
Advertisement