This ad will not print with your recipe
Baked Lamb Meatballs
I made these as part of a New Year's dinner. Had the lamb and peeked around the kitchen for interesting and delicious things to throw in. I love successful experiments!
By Spiderwoman77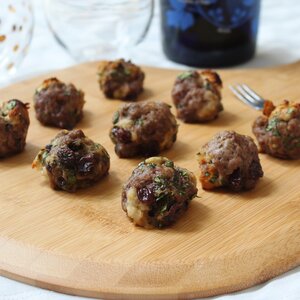 Ingredients
Original recipe yields 4 servings
Nutrition Facts
Per Serving:
298 calories; protein 21.6g; carbohydrates 16.1g; fat 16.1g; cholesterol 76.8mg; sodium 234.5mg.
Full Nutrition
This ad will not print with your recipe
Ads will not print with your recipe
Advertisement