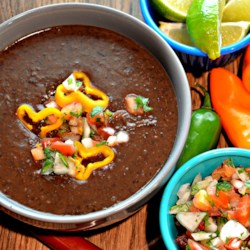 Instant Pot(R) Spicy Black Bean Soup (Vegan)
"You don't have to soak beans when using an electric pressure cooker. Adjust the spices to your liking in this healthier, easy-to-make black bean soup that freezes well."
Ingredients
2 tablespoons olive oil
1 medium white onion, chopped
1 yellow bell pepper, diced
5 cloves garlic, crushed
4 teaspoons chili powder
1 1/2 teaspoons ground cumin
1 1/2 teaspoons dried oregano
1/2 teaspoon salt
1/2 teaspoon freshly ground black pepper
1/4 teaspoon chipotle pepper powder
6 cups vegetable broth
1 pound dry black beans
1 (4 ounce) can chopped Hatch chile peppers, undrained
1 pinch garlic salt, or to taste
Garnish:
1 cup pico de gallo
1 red bell pepper, sliced
1 lime, cut into wedges
Directions
Turn on a multi-functional pressure cooker (such as Instant Pot(R)) and select Saute function. Add oil and heat until shimmering. Add onion and yellow pepper; cook and stir until translucent and soft, about 5 minutes.
Add garlic, chili powder, cumin, oregano, salt, pepper, and chipotle powder. Stir until fragrant, about 1 minute. Add broth, beans, and chile peppers. Close and lock the lid. Select high pressure according to manufacturer's instructions; set timer for 40 minutes. Allow 10 to 15 minutes for pressure to build.
Release pressure using the natural-release method according to manufacturer's instructions, about 25 minutes. Unlock and remove the lid. Use a stick blender to blend beans until thick and creamy. Season with garlic salt. Serve with pico de gallo, red bell pepper slices, and lime wedges.
ALL RIGHTS RESERVED © 2019 Allrecipes.com
Printed From Allrecipes.com 10/21/2019