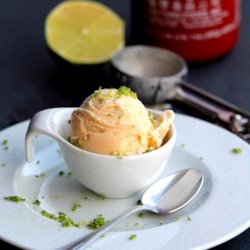 Recipe By:
Soup Loving Nicole
"Are you one of those people who puts hot sauce on everything? Have I got a treat for you! This ice cream satisfies both your cold and hot craving."
Ingredients
2 cups heavy whipping cream
1 cup milk
3/4 cup white sugar, divided
1 tablespoon sriracha sauce
1 pinch salt
5 egg yolks
1 teaspoon grated lime zest
Directions
Combine cream, milk, 1/2 of the sugar, sriracha sauce, and salt in a large saucepan. Heat over medium heat until almost boiling, whisking occasionally. Do not boil or the cream will separate.
Whisk egg yolks, remaining sugar, and lime zest in a separate mixing bowl. Pour 1/3 of the hot cream mixture into the egg yolk mixture; whisk to combine. Repeat this step 2 more times until the cream mixture is fully incorporated into the egg yolk mixture.
Pour the entire mixture back into the saucepan and heat for 2 minutes, whisking constantly. Do not boil. Transfer to a clean bowl with a lid and cool to room temperature. Refrigerate until thoroughly chilled, 4 hours to overnight.
Pour mixture into an ice cream maker and freeze according to manufacturer's instructions, about 30 minutes. Serve immediately as soft-serve or transfer to an freezer-safe container and freeze until scoopable, at least 2 hours.
ALL RIGHTS RESERVED © 2019 Allrecipes.com
Printed From Allrecipes.com 5/21/2019