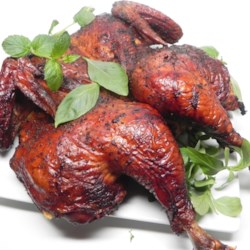 Mama L's Apple Injector Marinade for Chicken
"A tasty marinade to inject chicken with before your favorite method of cooking. It works well with a rotisserie, grilling, or roasting either pieces or a whole chicken. Freeze unused marinade or baste the bird with it while cooking."
Ingredients
1/4 cup apple cider
2 teaspoons soy sauce
2 teaspoons brown sugar
1 1/2 teaspoons garlic powder
1 teaspoon ground ginger
1 stick butter, melted
Directions
Combine apple cider, soy sauce, brown sugar, garlic powder, ginger, and butter in a large bowl. Stir well to combine. Use a flavor injector tool to inject marinade into chicken.
ALL RIGHTS RESERVED © 2019 Allrecipes.com
Printed From Allrecipes.com 6/17/2019