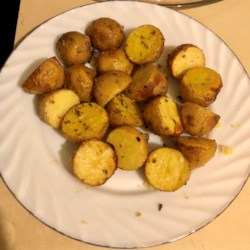 Garlic and Vinegar Roasted Potatoes
"Roasted Yukon gold potatoes seasoned with garlic, salt, and vinegar."
Ingredients
2 pounds Yukon gold potatoes
1/4 cup white vinegar
1/4 cup olive oil
2 teaspoons garlic powder
1 teaspoon sea salt
1 teaspoon dried sage
1 teaspoon dried tarragon
Directions
Preheat the oven to 425 degrees F (220 degrees C).
Scrub the potatoes and dry with paper towels. Cut into small chunks and place in a large bowl.
Add vinegar, oil, garlic powder, salt, sage, and tarragon to the bowl with the potatoes. Toss to coat. Pour into a baking dish.
Bake in the preheated oven until crispy on the outside and soft on the inside, about 45 minutes. Serve immediately.
ALL RIGHTS RESERVED © 2019 Allrecipes.com
Printed From Allrecipes.com 9/15/2019