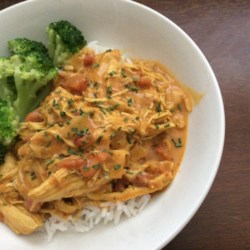 Instant Pot(R) Coconut Curry Chicken
"This is a rich, creamy coconut curry dish that comes together quickly in an Instant Pot(R). Customize the taste by using more or less curry powder and sugar. Delicious over jasmine or basmati rice! Garnish with chopped chives, if desired."
Ingredients
1 tablespoon coconut oil
1 medium onion, chopped
3 tablespoons curry powder, or to taste, divided
2 cloves garlic, chopped
1 (14.5 ounce) can diced tomatoes, drained
1 (8 ounce) can tomato sauce
1/2 cup chicken broth
2 tablespoons white sugar
2 pounds chicken breasts
salt to taste
ground black pepper to taste
1 (14 ounce) can coconut milk
Directions
Turn on a multi-functional pressure cooker (such as Instant Pot(R)) and select Saute function. Add coconut oil; when hot, add onion and cook for 1 minute. Add 2 tablespoons curry powder and garlic. Mix well and cook for 2 minutes. Turn off Saute function. Stir in diced tomatoes, tomato sauce, chicken broth, and sugar.
Poke holes into each chicken breast using a fork. Sprinkle with salt, pepper, and remaining curry powder. Add seasoned chicken to the pot. Close and lock the lid. Select high pressure according to manufacturer's instructions; set timer for 10 minutes. Allow 10 to 15 minutes for pressure to build.
Release pressure using the natural-release method according to manufacturer's instructions for 10 minutes. Release remaining pressure carefully using the quick-release method according to manufacturer's instructions, about 5 minutes. Unlock and remove the lid.
Remove chicken; use 2 forks to shred the meat and return it to the pot. Turn on Saute function; cook and stir until liquid is lightly boiling, 2 to 3 minutes.
Turn pressure cooker to Keep Warm. Add coconut milk and stir well; cook for 10 minutes more to allow flavors to come together.
ALL RIGHTS RESERVED © 2019 Allrecipes.com
Printed From Allrecipes.com 5/20/2019