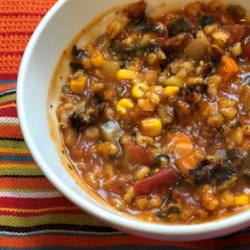 Instant Pot(R) Vegan Vegetable and Barley Soup
"Barley, zucchinis, carrots, tomatoes, and corn combine to make this hearty, versatile, filling vegan soup that is just so easy to make in your Instant Pot(R)."
Ingredients
2 quarts vegetable broth
1 cup uncooked barley
1 (14.5 ounce) can canned diced tomatoes
2 carrots, chopped
2 stalks celery, chopped
1 zucchini, chopped
1 onion, chopped
1 cup frozen corn kernels
2 bay leaves
1 teaspoon salt
1 teaspoon white sugar
1/2 teaspoon ground black pepper
1/2 teaspoon garlic powder
Directions
Combine vegetable broth, barley, tomatoes, carrots, celery, zucchini, onion, corn, bay leaves, salt, sugar, pepper, and garlic powder in a multi-functional pressure cooker (such as Instant Pot(R)). Close and lock the lid. Select high pressure according to manufacturer's instructions; set timer for 20 minutes. Allow 10 to 15 minutes for pressure to build.
Release pressure using the natural-release method according to manufacturer's instructions, 10 to 40 minutes. Unlock and remove the lid.
ALL RIGHTS RESERVED © 2019 Allrecipes.com
Printed From Allrecipes.com 10/20/2019