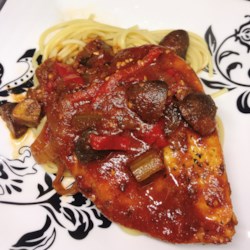 Best Instant Pot(R) Chicken Cacciatore
Recipe By:
Shelly Exel-Miles
"A little work up front, barely any cooking time, amazing outcome. Serve this to guests and they will be amazed by your mad Instant Pot(R)/pressure cooker skills. Serve by itself or over pasta or rice. Also can add a little freshly ground Parmesan cheese."
Ingredients
1 pound skinless, boneless chicken thighs
2 small skinless, boneless chicken breasts, halved lengthwise
1 tablespoon sea salt
1 tablespoon fresh ground black pepper
1/4 tablespoon cornstarch
3 tablespoons extra-virgin olive oil, divided
3 stalks celery, chopped
1 small onion, chopped
4 cloves garlic, minced
1 (8 ounce) package sliced fresh mushrooms
1 green bell pepper, diced
1 red bell pepper, diced
2 large jarred roasted red bell peppers, chopped
3/4 cup dry Cabernet Sauvignon
3 tablespoons tomato paste
1 1/2 teaspoons red pepper flakes, or to taste
2 teaspoons garlic powder
2 teaspoons onion powder
2 teaspoons chicken bouillon granules
2 teaspoons Italian seasoning
Directions
Dredge chicken thighs and breasts with salt, pepper, and flour.
Turn on a multi-functional pressure cooker (such as Instant Pot(R)) and select Saute function. Heat 1/2 the olive oil. Add chicken and cook until browned on both sides, flipping halfway using tongs, about 10 minutes. Transfer chicken to a plate.
Heat remaining olive oil in the pot. Saute celery and onion until translucent, about 3 minutes. Add garlic; stir in mushrooms, green bell pepper, diced red bell pepper, and roasted red pepper. Saute until fragrant, about 1 minute more.
Return chicken to pot. Add Cabernet Sauvignon, tomato paste, red pepper flakes, garlic powder, onion powder, bouillon, and Italian seasoning. Close and lock the lid. Select high pressure according to manufacturer's instructions; set timer for 11 minutes. Allow 10 to 15 minutes for pressure to build.
Release pressure carefully using the quick-release method according to manufacturer's instructions, about 5 minutes. Unlock and remove lid.
ALL RIGHTS RESERVED © 2019 Allrecipes.com
Printed From Allrecipes.com 10/23/2019