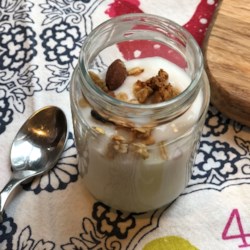 Instant Pot(R) Basic Soy Milk Yogurt
"Make this simple non-dairy homemade yogurt in your Instant Pot(R) with 2 basic available ingredients; you'll never buy yogurt again! Serve with honey and fresh fruit."
Ingredients
Directions
Turn on a multi-functional pressure cooker (such as Instant Pot(R)) and select Yogurt function. Stir in soy milk and soy yogurt. Close and lock the lid. Set timer for 12 hours.
Stir yogurt well and transfer to sealed jars. Chill in the fridge for at least 6 hours.
ALL RIGHTS RESERVED © 2019 Allrecipes.com
Printed From Allrecipes.com 4/23/2019