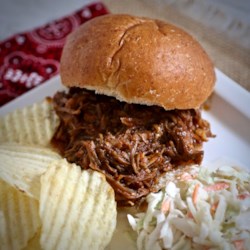 Instant Pot(R) Pulled Pork Sandwiches
"Try the most delicious, melt-in-your-mouth pulled pork sandwiches, made easily and without hassle in your Instant Pot(R)--an absolute family favorite!"
Ingredients
1 tablespoon smoked paprika
1 1/2 teaspoons firmly packed light brown sugar
1 teaspoon salt
1/2 teaspoon ground black pepper
2 pounds boneless pork loin roast, cut into 1-inch cubes
1 tablespoon olive oil
1 1/2 cups barbeque sauce
1 cup water
2 (12 count) packages Hawaiian bread rolls (such as King's(R))
Directions
Whisk smoked paprika, brown sugar, garlic powder, salt, and black pepper together in a large glass or ceramic bowl. Add pork and toss to evenly coat. Cover the bowl with plastic wrap and marinate in the refrigerator for 30 minutes.
Turn on a multi-functional pressure cooker (such as Instant Pot(R)) and select Saute function. Heat oil and cook pork in batches until browned, 5 to 7 minutes. Pour in barbeque sauce and water. Close and lock the lid; select Manual function and set timer for 60 minutes. Allow 10 to 15 minutes for pressure to build.
Release pressure using the natural-release method according to manufacturer's instructions, 10 to 40 minutes. Unlock and remove lid; transfer pork to a separate plate. Reselect Saute function and simmer sauce until thickened, about 10 minutes. Shred pork with 2 two forks; mix with sauce.
Slice bread rolls in half and fill with pulled pork; cover with tops.
ALL RIGHTS RESERVED © 2019 Allrecipes.com
Printed From Allrecipes.com 6/27/2019