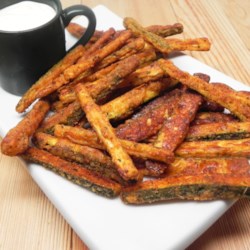 Quick and Easy Parmesan Zucchini Fries
"Zucchinis, Parmesan cheese, garlic, and paprika make these ultimate zucchini fries, that are so easy to make, and carb-conscious as well!"
Ingredients
cooking spray
2 eggs
3/4 cup grated Parmesan cheese
1 tablespoon dried mixed herbs
1 1/2 teaspoons garlic powder
1 teaspoon paprika
1/2 teaspoon ground black pepper
2 pounds zucchinis, cut into 1/2-inch French fry strips
Directions
Preheat oven to 425 degrees F (220 degrees C). Line a baking sheet with aluminum foil and spray with cooking spray.
Whisk eggs in a shallow bowl. Combine Parmesan cheese, mixed herbs, garlic powder, paprika, and pepper in a separate shallow bowl; mix well.
Dip zucchini fries into beaten eggs, in batches; shake to remove excess, and roll in Parmesan mixture until fully coated. Place on the prepared baking sheet.
Bake in the preheated oven, turning once, until golden and crispy, 30 to 35 minutes.
ALL RIGHTS RESERVED © 2019 Allrecipes.com
Printed From Allrecipes.com 12/8/2019