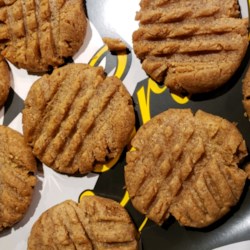 3-Ingredient Keto Peanut Butter Cookies
"Kids will love these scrumptious low-carb keto cookies; all you need is peanut butter, vanilla extract, an egg, and some sugar substitute."
Ingredients
1 cup peanut butter
1/2 cup low-calorie natural sweetener (such as Swerve(R))
1 egg
1 teaspoon sugar-free vanilla extract
Directions
Preheat oven to 350 degrees F (175 degrees C). Line a baking sheet with parchment paper.
Combine peanut butter, sweetener, egg, and vanilla extract in a bowl; mix well until a dough is formed.
Roll dough into 1-inch balls. Place on the prepared baking sheet and press down twice with a fork in a criss-cross pattern.
Bake in the the preheated oven until edges are golden, 12 to 15 minutes. Cool on the baking sheet for 1 minute before removing to a wire rack to cool completely.
ALL RIGHTS RESERVED © 2019 Allrecipes.com
Printed From Allrecipes.com 9/20/2019