This ad will not print with your recipe
Fern's Apple Crisp
This apple crisp recipe has been handed down through our family and is great a la mode.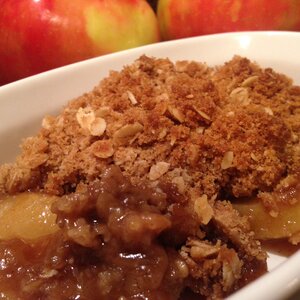 Ingredients
Original recipe yields 10 servings
Cook's Note:
Add chopped nuts to the crumble topping if desired.
Nutrition Facts
Per Serving:
641 calories; protein 5.4g 11% DV; carbohydrates 98.9g 32% DV; fat 26.8g 41% DV; cholesterol 67.1mg 22% DV; sodium 440.8mg 18% DV.
Full Nutrition
This ad will not print with your recipe
Ads will not print with your recipe
Advertisement