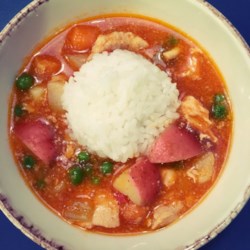 Instant Pot(R) Thai Red Curry with Chicken
"This sumptuous restaurant-worthy recipe is a perfect use of the Instant Pot(R). The Thai red curry can be as mild or spicy as you'd like. Chock-full of vegetables and so aromatic, this dish will have the family climbing over one another to get a seat at the dinner table."
Ingredients
1 tablespoon olive oil
1/2 onion, diced
2 cloves garlic, minced
1 stalk celery, sliced
6 large red potatoes, diced
3/4 cup cherry tomatoes, halved
1/2 cup chopped carrots
2 boneless chicken breasts, sliced
1 (14 ounce) can coconut milk
2 tablespoons fish sauce
1/2 cup water
1/2 cup frozen peas
3 tablespoons red curry paste
2 tablespoons brown sugar
3 chicken bouillon cubes, crushed
Directions
Heat olive oil in the pot of an electric pressure cooker (such as Instant Pot(R)) on 'Saute' mode. Add onion and garlic; saute until soft, about 3 minutes. Add celery and cook until bright green, about 2 minutes longer. Add potatoes, cherry tomatoes, and carrots. Stir to combine.
Place chicken slices on top of the sauteed vegetables. Pour coconut milk over chicken. Add fish sauce and allow liquid to come to a boil, about 5 minutes. Mix in water, frozen peas, curry paste, brown sugar, and crushed bouillon cubes.
Place lid on the pot and lock in place. Bring to high pressure according to manufacturer's instructions; cook for 12 minutes. Release pressure through natural-release method, about 20 minutes.
ALL RIGHTS RESERVED © 2019 Allrecipes.com
Printed From Allrecipes.com 4/22/2019