This ad will not print with your recipe
Scooter's Vegan Tempeh Chili
After switching over to a vegetarian lifestyle I came up with this dish to satisfy my autumn and winter cravings for a warm vegan chili. A great dish that comes together fast and since it is packed with fiber/protein it will fill you up.
By ScoGold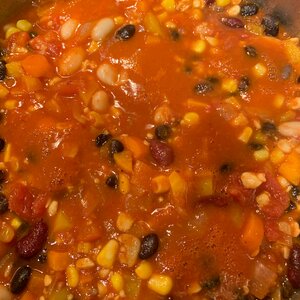 Ingredients
Original recipe yields 6 servings
Cook's Notes:
You can use any bean that you prefer but having 3 types of beans makes it look colorful.
Tips
You can also add a variety of bell peppers to give it more color.
Tips
For extra kick, add 1 teaspoon cayenne pepper.
Nutrition Facts
Per Serving:
427 calories; protein 23.2g; carbohydrates 71.5g; fat 8.7g; sodium 1004.9mg.
Full Nutrition
This ad will not print with your recipe
Ads will not print with your recipe
Advertisement