This ad will not print with your recipe
Homemade Gluten-Free and Lactose-Free Vegetable Lasagna
Homemade vegetable lasagna just as it should be; hot, oozy, and messy! This is a vegetable lasagna without any weird micro-protein meat substitute; just vegetables and tomatoes, with a homemade white sauce (made with lactose-free milk and cheese, and gluten-free flour). I have been known to make my own pasta sheets for this, but tonight I used Sainsbury's gluten-free pasta sheets (dry).
By intoleranceisbliss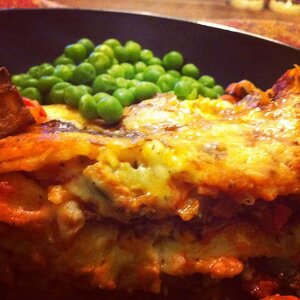 Ingredients
Original recipe yields 8 servings
Nutrition Facts
Per Serving:
235 calories; protein 5.8g; carbohydrates 32.8g; fat 9.2g; cholesterol 0.9mg; sodium 603.6mg.
Full Nutrition
This ad will not print with your recipe
Ads will not print with your recipe
Advertisement