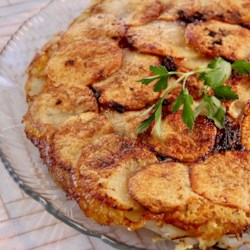 "Layers of thinly sliced Yukon Gold potatoes, stacked with Gruyere cheese and golden sauteed onions make this French side dish."
Ingredients
3/4 teaspoon salt
1/2 teaspoon ground black pepper
1/2 teaspoon thyme
2 tablespoons butter, divided
1 thinly sliced sweet onion
1 1/2 pounds Yukon gold potatoes, peeled and thinly sliced
1 cup shredded Gruyere cheese
Directions
Combine salt, pepper, and thyme in a bowl.
Melt 1 tablespoon butter in a 10-inch skillet over medium heat. Cook and stir onions until soft and golden brown, about 8 minutes. Move to a bowl.
Melt remaining 1 tablespoon butter in the skillet; remove from heat.
Arrange 1/3 of potato slices in the skillet in a slightly overlapping layer. Sprinkle with 1/2 teaspoon of the salt mixture. Top with 1/2 of the onions and 1/2 of the Gruyere cheese. Repeat layers, ending with potatoes; sprinkle with remaining salt mixture.
Cover and cook over medium-low heat, reducing heat to low if necessary, until potatoes are tender, about 30 minutes. Uncover and continue cooking, about 5 minutes. Run a spatula around edges to loosen; let cool, 5 to 10 minutes.
Invert potatoes carefully onto a serving dish.
ALL RIGHTS RESERVED © 2019 Allrecipes.com
Printed From Allrecipes.com 9/20/2019