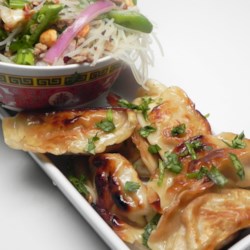 Pan-Fried Chinese Dumplings
"Sometimes called 'potstickers,' these lovely little dumplings are pan-fried and then simmered. Serve with your favorite Chinese dipping sauce or just soy sauce."
Ingredients
2 tablespoons small dried prawns
1/4 cup rice vermicelli
3 eggs
1 pinch salt
1 tablespoon vegetable oil
2 bunches Chinese chives, finely chopped
2 mushrooms, finely chopped
1 tablespoon vegetable oil
1/2 teaspoon salt
1/4 teaspoon sesame oil
1 pinch ground black pepper
40 round wonton wrappers
1 1/4 cups boiling water
1 tablespoon vegetable oil, or as needed
Directions
Soak dried prawns in a bowl of hot water for 30 minutes. Drain and finely chop.
Soak rice vermicelli in a bowl of warm water for 10 minutes. Drain, squeeze out excess water, and finely chop.
Beat eggs and 1 pinch salt together in a bowl until light and foamy. Heat 1 tablespoon oil in a wok or large skillet over medium heat; add eggs. Cook until set, about 2 minutes. Flip the omelet and cook 1 minute more. Cool omelet on a work surface; cut into small pieces.
Combine egg, prawns, vermicelli, chives, mushrooms, 1 tablespoon oil, 1/2 teaspoon salt, sesame oil, and black pepper in a bowl.
Wet the edge of a wonton wrapper with water and place 1 tablespoon egg mixture in the center. Fold wonton wrapper in half and pleat the edges with your fingers. Repeat with remaining wrappers and egg mixture.
Heat 1 tablespoon oil in a large skillet over medium-high heat; add half of the dumplings and fry for 2 minutes. Pour in boiling water, cover, and cook until bottoms of dumplings are golden brown, about 10 minutes. Remove and keep warm. Repeat with remaining dumplings.
ALL RIGHTS RESERVED © 2019 Allrecipes.com
Printed From Allrecipes.com 11/19/2019